Welcome to Kiron!
Kiron offers learning categories consisting of multiple courses in different subjects and a series of Skill Booster Programs. Study Categories are similar to university studies, containing modules with 1 to 5 courses. Categories with Skill Booster Programs teach applicable skills in a short time. They usually have 5-8 courses and for all programs, after completing, you receive a certificate!
Below are some of our Skill Booster Programs:
Google IT support professional certificate

Basic Digital Skills
Start your own online business

Web design

Learn programming with Python

Policy-making

Computer skills

Foundations of teaching I and II

Introduction to psychology

Data science

How to be an online learner

How to learn a language

Teaching online

How to write your job application

Become an online facilitator
You can check out all the different Skill Booster Programs on Kiron Campus on the "EXPLORE" section.
The different Study Categories are home to our Kiron Modules. These modules contain online courses on the university level, with theoretical and academic content. You can choose which and how many modules to study yourself. They are ordered in two levels:
Introductory

: for students without or with little prior knowledge of the subject

Intermediate

: for students who also know the basics of this subject
The Study Categories are:
Business and Economics
Computer Science
Political Science
Mechanical Engineering
Social Work
To give you an examplke, these are the courses available on our Social Work category: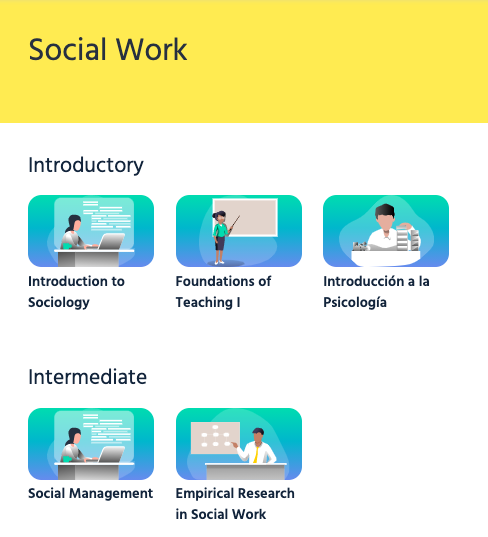 You can check all the courses available on Kiron Campus in this link.