If you do not feel safe on Kiron Campus, our team is here to support you. You are not alone. You are welcome to send us an email to safe-community@kiron.ngo and we will listen to you and help you with anything you need.
Kiron is committed to safeguarding our community of students ensuring that our projects and activities are delivered in a way which keeps everyone safe.
We believe that everyone regardless of age, sex, gender, race, colour, ethnic origin, religion, political beliefs, sexual orientation, gender identity, mental health, ability, socioeconomic background or any other aspect of their background or identity has the right to be protected from all forms of harm, abuse, neglect and exploitation.
Kiron students and staff members must respect the Code of Conduct at all times.
What is an unsafe situation?
Unsafe situations can happen anytime and to anyone, and they are not your fault. If you are not feeling comfortable in our platform, you should always get in contact with our team at Kiron. Some examples of situations that are not safe:
If a person is insulting others, or saying swear words or any offensive comments

If a person makes offensive comments related to gender, gender identity, sexual orientation, disability, mental illness, physical appearance, political affiliation, marital status, age, race, national origin, ethnic origin, nationality, immigration status, language, religion or lack thereof, or other identity marker.

If a person makes comments that diminish the experiences of indigenous and black people or people of colour.

If a person makes offensive comments about your

lifestyle choices and practices, including those related to food, health, parenting, relationships, drugs, and employment.

If a person threats or intimidates others with violent comments.

If a person asks others to make violent or abusive comments towards any individual or group.

If a person encourages another person to self-harm themselves.

If a person has inappropriate social contact or attitudes that request or assume intimacy with others.

If a person shares sexual images or makes sexual comments.

If a person dedicates you unwelcome sexual attention, simulated physical contact (e.g. textual descriptions like "hug" or "backrub") without consent.

If a person shares offensive photography or recording.

If a person stalks other people's

activities or controls them (e.g. keeping a record of online activity of a member for harassment purposes; or repeatedly sending messages to someone without their consent).

If a person shares private communication without the consent of the person involved.

If a person reveals any aspect of a person's identity without their consent.

If a person insists you in continue talking after you requested them to stop.

If a person exposes people to violent language, images or videos, especially without any trigger warning.

Jokes that sound like the harassments mentioned above still count as harassment even if said in a satirical or ironic manner.
*This is not an exhaustive list. If you're unsure, please reach out to us via email: safe-community@kiron.ngo
How can I report a situation in the Community space?
If you feel unsafe due to the behaviour or online actions by a member of our community, notice that someone else is being harassed, or have any other concerns, please report that message by clicking on More actions -> Report next to that message.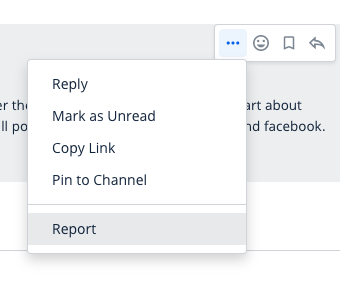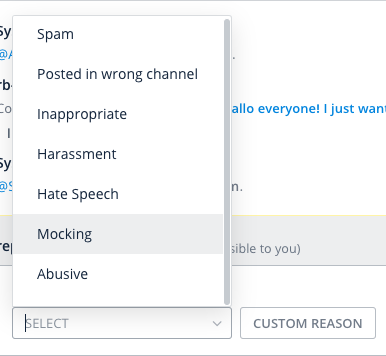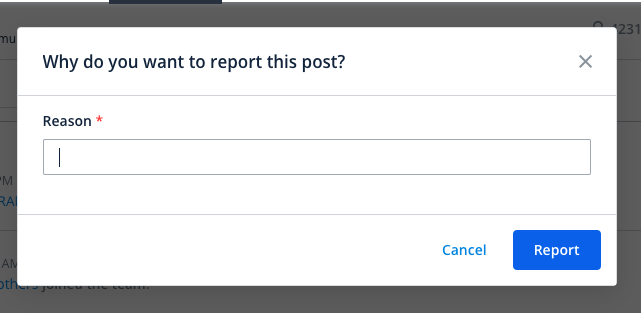 A Kiron admin will review the content and get back to you very soon. If you do not get a timely response (for example, if this happens during the weekend) then please put your personal safety and well-being first, and consider logging out from Kiron Campus.
How can I ask for more direct help to Kiron?
You can contact the Kiron team at this same email address safe-community@kiron.ngo or get in touch with the Safeguarding Officer Elisabeth Roura (@Elisabeth from Kiron) via the Community chat or via email to elisabeth.roura@kiron.ngo. If the person demonstrating inappropriate behaviour is from the Kiron team, we encourage you to report the situation. We promise that this person will not be involved in solving the incident and your identity will be protected.